Two bands that I played A LOT of in 2005,
The French Kicks
and
Tapes 'n Tapes
both have new albums coming out this spring. I figured yesterday I went a little beat heavy, so today I'll bring back some guitars from two of my favorite indie bands.
The French Kicks
track is off of their just released (4/1 on iTunes) album
Swimming
. Nothing can replace
The Trial of the Century
, it is one of my favorite tracks of all time, but I like how the bass line teases in track
Abandon
before coming out in full force. It has the same haunting tone I think they pull off very well.
The French Kicks have their roots in DC but pretty much started after moving to Brooklyn. With two of the three original members no longer with the band after
A Trial of the Century
was released, I think it showed in 2006's
Two Thousand
. But it seems they have once again found their music space with their latest. They have been teetering on the verge of breaking out and 2008 might be the year.
MP3:
The Trial of the Century
(YSI)
MP3:
Abadon
(YSI)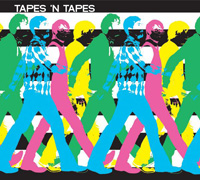 Now
Tapes 'n Tapes
is another band whose track
Insistor
burned a whole in my play list back in 2005, probably well into '06. In fact I really want to listen to it right now after talking about it. You can call these guys one of the earliest music blog success stories. Their popularity rose quickly after their first release,
The Loon
, was featured on several popular music blogs (
Music for Robots
,
You Ain't No Picasso,
Gorilla vs. Bear
, Pitchfork (Okay not a blog per se, but you know you all read it...).
You can get a whole bunch of older Tapes 'n Tapes tracks on their
site
.
Hang Them All
is showing that Tapes 'n Tapes have matured.
MP3:
Insistor (YSI)
MP3:
Hang Them All
(YSI)