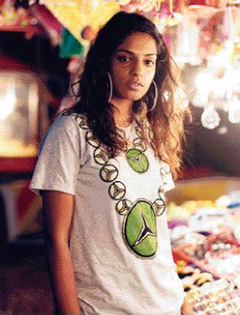 M.I.A.
'Nuff said.
First single off her new album
Kala
. I'm just glad Timbaland did not produce the entire album. He's good and all, but it is hard to be original when every track out there is produced by him. (Can someone tell him to let go of that jungle beat he drops on every song?)
MP3:
Boyz
A few months back I watched M.I.A. and Timbaland in the studio. I could not stand his
smugness with her.
He tells her "You dont have what I have. I hate to bust your little bubble. I got stuff".
He wants hits and nothing but hits. He takes his "hit maker" title very seriously. Sadly. If it worked once, it's gotta work again seems to be his mentality. How did this turn into a Timbaland rant post?
Either way, I still hit the dance floor when Timbaland and Magoo's Luv 2 Luv U comes on.