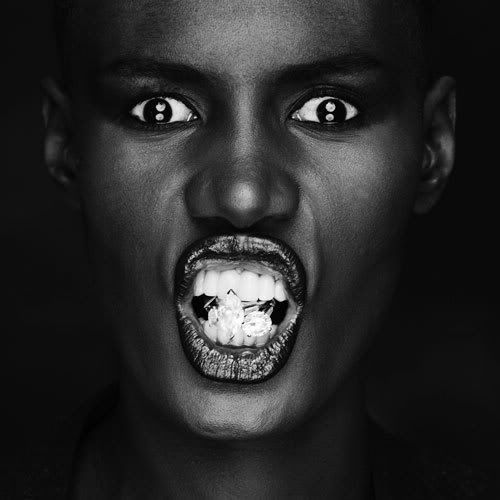 Grace Jones
is back.
I have a new found respect for this woman. Anybody that can remain relevant for over 30 years tends to have that impact on me. She is beyond being a fashion icon, musician, actress, a muse for others. She is all of these.
Her new album
Hurricane
is said to be her most personal one yet. I found that to be such an interesting comment considering I always viewed her as a stone cold statuesque figure that is know more for her looks than her music. One listen to William's Blood her newest single and I was quickly proven wrong. The album includes collaborations with Brian Eno and Sly & Robbie.
MP3:
William's Blood
(ysi)
Torn between her religious upbringing on her father's side and the more free spirited side of her mother's (née Williams) the song explores her feelings growing up.
Here is a video for another track off of
Hurricane
,
Corporate Cannibal
.
Jones recently performed at a private party for Audi during Art Basel this year on Miami Beach (Audi was one of the main sponsors for Design Miami). I have forgiven my friend for not getting me in.
Oh and the artwork for the album is a photoshoot she Collaborated with Tom Hingston Studio, to explore the idea of a popstar as a visual commodity. They created life-size versions of Jones made out of chocolate!
Models are there to look like mannequins, not like real people.
Art and illusion are supposed to be fantasy.
- Grace Jones


I'll admit it, she scared me when I was little.