M.I.A. invades MIA tonight playing Studio A. The show is sold out. Sooo best chance to catch a glimpse is the after-party, if you don't have tickets. Everybody knows where that is. (I have been known to frequent the place...). DJ Contra (M.I.A.'s former tour DJ) will be holding it down. And honestly the last time Contra DJ'ed an M.I.A. after party in MIA it was insane (and actually at the same place).
MP3:
Boyz (Diplo Remix Feat. Battles & Akon)
(YSI)
UPDATE:
The show was amazing. You can see how much she has progressed since I first saw her at I/O a few years back. The experience she has gained on festival stages has given her a confidence that even with technical issues keeps her in control of the show without missing a beat. (WTF Studio A, can't you handle power for a couple of turntables and projectors?!?!)
The crowd freaked out for Bucky Done Gun and kept up the energy for the entire show. In fact the only bad comments I have are for Studio A itself (and I'll leave those out).
I headed out to the after-party during the last song but it was to say hi to a few friends and I left before the crowd arrived (and M.I.A.).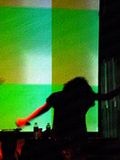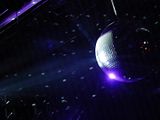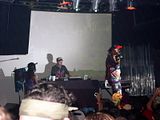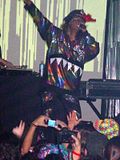 Here are some shaky clips. The bass was boomin' yo!
We want bucky done gun!