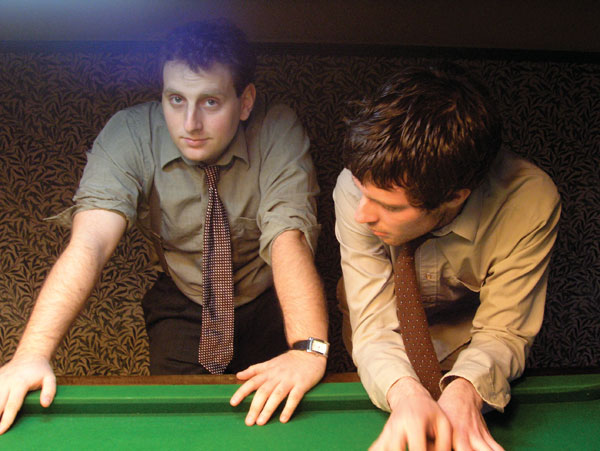 This one is going to be REALLY quick. Things are busy at work and a guy's gotta have his priorties.
Anyways,
The Junior Boys
are still working on the follow-up to their brilliant sophomore album
This Is Goodbye
. In the meantime, they hooked up with Germany's
Get Physical
Label (M.A.N.D.Y., Booka Shade)to put together
Body Language Six
which includes an exclusive
new
Junior Boys track.
Among the artists the guys have selected are Matthew Dear, Studio, Supermayer. It's a really well put together set. It might be a little minimal for some but the Kelley Polar track is INSANE.
Anyways, I am ambivalent about the Junior Boys track. It really belong as the album closer but I think they felt it strange to end with their own track and dumped it in the middle of some others.
Take a listen (Oh, it is a DJ mix CD, so the tracks are seamless between each and you are going to hear the start of the next song at the end):
MP3:
No Kinda Man (YSI)
And
Miami
, they're coming back this way for WMC on March 27 to Studio A . If you missed them last year, you have a second chance! I'm wondering if this is a DJ set though? Last year was a full concert with Lo Fi Fnk opening. Great show! And I even got to hang out with them during their sound check during the day.
Oh and remember Inner City?
Good life... Good life... Good life... Good life...
well they're back, kinda, with a remix of another song from the same period. What makes it a big deal is that Simian Mobile Disco is the one that produced the remix. Paris Grey's vocals take me back. (When's the Soul II Soul reunion?)
Check out the video for
Good Life
at
Nefarious Girl
!!
MP3:
Big Fun (Simian Mobile Disco Remix) (YSI)
*UPDATE:
It's a WMC DJ set. So I wonder if this Body Language album is a preview? Or if they go in a different direction when DJing live?