This
FRIDAY
we are going to
GET PHYSICAL
@
The Lab
part of the
Off the Radar
party extravaganza!
I am sorry, I have neglected dance music in the last few posts. I hope this
makes up for it
.
Covering Olivia's 80's ode to leg warmers and spandex are
The Black Ghosts
on Southern Fried Records. We also got their
newish single
there also. There is a Playgroup remix of it that starts off of with the 2 Hype Brothers and a Dog's
doo
-
doo
brown beat before breaking into the
electro
goodness of The Black Ghosts. The sirens in the chorus are signaling that the dancefloor is about to blow up!
Here is a 30 minute mix by The Black Ghosts
courtesty
of
Southern Fried
Stream Here:
30 minute Mix
(Direct download
below
with track listing)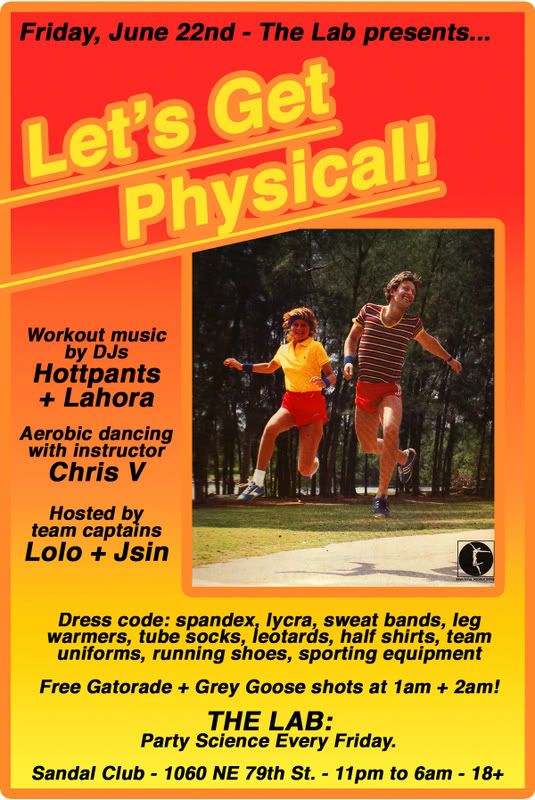 MP3:
The Black Ghosts -
Let's Get Physical
MP3:
The Black Ghosts -
Anyway You Choose To Give It
MP3:
The Black Ghosts -
Anyway You Choose To Give It (Playgroup Remix)
TRACKLISTING
(Emperor Machine, Electrelane, Brian Eno, Zongamin, The Whip! AND WHAT!)
Harco Pront "Night"
Emperor Machine "Rimramramrim"
Clinic "The Second Line"
Soul Savers "Rumble Fish" (Simian Mix)
Supercollider "Darn Cold Way Of Loving"
Electrelane "The Valleys"
The Jonzun Crew" "Space Is The Place"
Good Books "Leni (Crystal Castles Mix)
Heaven And Earth "Feel The Spirit"
The Firebirds "Soul Sonata"
Blowfly "Sesame Street"
Silver Apples "Lovefingers"
Gianfranco Reverberi "Nel Cimitero Di Tucson"
Metronomy "Trick Or Treatz"
Milton Hamilton "My Love Supreme"
101 Strings "Karma Sitar"
Can "Vitamin C" (Ghost 1 And Ghost 4 Edit)"
Zongamin "Spiral"
Brian Eno "Sky Saw"
Frankie Valli "Beggin" (Pilooski Edit)
The Whip "Muzzle #1″ (The Black Ghosts Mix)
Beck "Sexx Laws" (The Wiseguys Mix)
The Black Ghosts "Anyway You Choose To Give It" (Fake Blood Mix)
The Dykeenies "New Ideas" (The Black Ghosts Mix)